Teacher Refresher Course
This is a unique opportunity for teachers of English as a foreign/second language wishing to refresh their practical use of the language along with the teaching skills and knowledge of current methodologies and trends in the EFL world.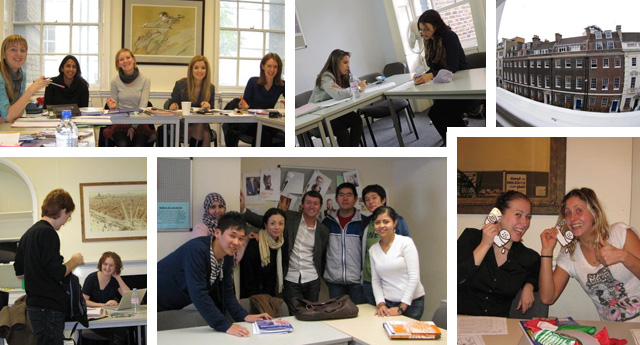 The English teacher refresher course is very practical and interactive, consisting of input sessions, workshops, mini teaching practice sessions and tutorials, focused mainly on the following:
modern teaching methodologies, such as blended learning
tips on teaching grammar, lexis and all four skills
latest learning and teaching materials, critical evaluation of resources
focussed phonology sessions to help students enhance their pronunciation and reduce accents
using a combination of traditional and latest classroom technology including interactive whiteboards
feedback with a clear vocational focus
Bloomsbury International has been established in teacher training for a number of years. Our tutors use their expertise and experience to adapt the course according to their group's need and to provide a high quality learning experience for all.
This course is designed for teachers who:
have teaching experience abroad or in the UK
are returning to teaching after a break and feeling a little rusty
are in training
wish to acquire innovative ideas for the classroom
On successful completion of the course, each participant will receive a list of useful activities and websites and a Bloomsbury International certificate.
While the course is designed mainly for non-native speakers, if you are a native speaker who falls into one of the above categories, please contact us for more information.
Timetable sample*
09.00 – 12.15
Optional General English/Business English/Exam Preparation
(Improve your English skills together with your Teacher Refresher course)
12.15 – 13.00
Lunch break
13.00 – 14.30
Guided lesson observation
14.30 – 14.45
Coffee break
14.45 – 16.15
CPD on Methodology and Teaching techniques
*Click
here
to download a
detailed timetable sample.
Course Options
Hours (pw)
Class times
Price
Teacher Refresher
– 20 lessons
15
13:00 – 14:30 & 14:45 – 16:15*
£499
Teacher Refresher
– 40 lessons
30
09:00 to 12:15
(optional General English/Business English/Exam Preparation)
13:00 – 14:30 & 14:45 – 16:15
£715
*Break times: (Adult AM: 10.30-10.45; PM: 14.30-14.45/Young Learners: 10.00-10.10 + 11.00-11.10)
*Morning classes available.