Idiom
As happy as a butcher's dog
Meaning
This idiom is used to say someone is extremely happy with their situation or position. From the meaning that a dog belonging to a butcher would presumably always have all the meat, sausages and left overs that he could wish for, so he would always be pleased.
Origin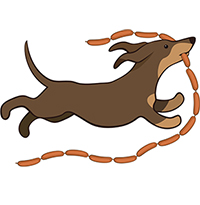 The origin of the idiom is relatively unknown, but is believed to have been used by scholars and in literature for centuries.
Examples
When John passed the IELTS, he was as happy as a butchers dog.

He married his teenage love; he's as happy as a butcher's dog.

When Sarah came to study at Bloomsbury International, her courses were excellent. She was as happy as a butcher's dog.