Idiom
When Pigs Fly: Origin and Meaning
Meaning
To describe an impossible thing, something that will never happen.
Origin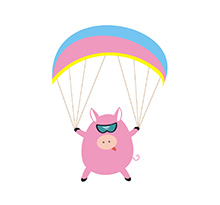 This humorous turn of phrase is generally believed to have derived from a Scottish proverb "pigs may fly, but it's not likely". How much fun would it be if pigs actually had little wings and could hover and flutter above you? They would be so adorable and the bacon wings would be so delicious!
This idiom also appears in a 1586 edition of John Withal's English-Latin dictionary for children, but in the different form "pigs fly in the air with their tails forward", which means they are flying …backwards? Interesting idea! Flying pigs also appears in Lewis Caroll's Alice in Wonderland. When the Duchess catches Alice thinking, she tells her off. Alice replies that she has every right to think, to which the Duchess replies: Just about as much right, as pigs have to fly."
This idiom I usually humorously or sarcastically as seem below.
Examples
"Do you think our team will win?" " Yeah,
when pigs fly
!"
"I'm going to win the X factor!" "Yeah? And
pigs might fly
!"
I think that John will return the £100 pounds you leant him –
when pigs fly
!