Idiom
Diamond in the Rough: Origin and Meaning
Meaning
someone who you know has hidden qualities that you think will emerge with a bit of a push or training; usually used in the business environment to describe someone showing potential.
Origin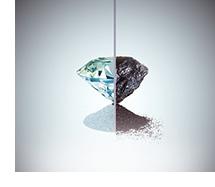 If you think of a diamond, something shiny and precious immediately comes to mind. However, when diamonds are discovered, they usually tend to be dirty and need thorough polishing to make all their amazing qualities emerge and shine. The same applies to people you feel display great potential to succeed, but need a bit of "polishing" to make their underlying skills emerge.
The expression first appeared in John Fletcher's 1624 A Wife for a Month: "She is very honest, and will be as hard to cut as a rough diamond."
Examples
When he first joined the company we immediately knew that he was a diamond in the rough, and look at him now! He's done so well for himself!

The new HR assistant seems to be lacking in confidence, but I think he's a diamond in the rough. We should give him a couple of months and see how he gets on.

When I first met him he looked a bit dirty and scruffy. Then he went to the barbers and got cleaned up! Boy, was he a diamond in the rough!