Idiom
Fit as a Fiddle: Origin and Meaning
Meaning
Being in good health and full of life.
Origin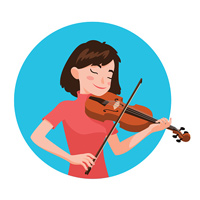 A fiddle is a musical instrument of the viol family and in particular, the violin. Violins are wonderful instruments, but as for all instruments, they need to be looked after. The instrument needs to be tuned, the pegs turned, it needs to be regularly cleaned and the strings need to be waxed and tightened. This will keep the instrument in shape and fit for purpose.….similar to the MOT our bodies need from time to time. Hence, the meaning fit as a fiddle.
Examples
– I'm 50 going on 60, but am still as fit as a fiddle.

– My personal trainer told me that I needed to cut out carbs in order to be as fit as a fiddle.

– Unfortunately, he passed away so young. We all thought he was as fit as a fiddle but his heart gave out while he was jogging in the park.