Idiom
Mind Your Own Beeswax: Origin and Meaning
Meaning
To mind one's own business, to rudely tell someone not to stick their nose in your private affairs.
Origin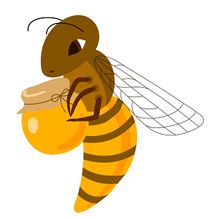 This idiom is the slang rendition of the more commonly used "mind your own business" and has quite an interesting origin.
Today, if you walk into any department store or chemist's you will probably be surrounded by a multitude of beauty products promising the most miraculous solutions to any kind of skin condition under the sun. Thanks to the advancements in beauty therapy, many people have found a way of improving the redness and bumpiness of their skin after just a couple of washes with cleansing products such as
Clearasil
.
But how did women or men manage to treat their pimples, blemishes or severe acne in the past? Well, the answer is that they would spread a thin layer of bees wax onto their skin to smoothen their facial appearance, and if someone stared at them too long, this would warrant them saying "Mind your own beeswax", which basically meant "stop staring at me".
Examples
Mind your own beeswax and no one will bother you!

A: How old are you?
B: I beg your pardon! Mind your own beeswax!

I asked my husband what he had bought me for Christmas, and he winked and whispered in my ear that I should mind my own beeswax.