Idiom
Bah Humbug: Origin and Meaning
Meaning
An expression to describe people who generally dislike and don't approve of what other people like, for example social occasions like Christmas.
Origin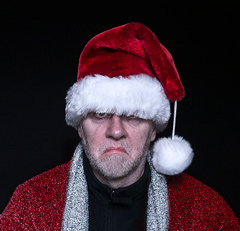 This idiomatic expression is mostly associated with an expression made famous in
A Christmas Carol
by Charles Dickens.
One of the main characters from the book,
Ebenezer Scrooge
, was a mean and grumpy fella. He hated everything including Christmas and when people said anything to him or wished him a Merry Christmas he would frown at them and nastily reply "Bah, humbug!"
"A Merry Christmas, uncle! God save you!" cried a cheerful voice. It was the voice of Scrooge's nephew, who came upon him so quickly that this was the first intimation he had of his approach.
"Bah!" said Scrooge, "Humbug!"
[…] "Christmas a humbug, uncle!" said Scrooge's nephew. "You don't mean that, I am sure."
"I do," said Scrooge. "Merry Christmas! What right have you to be merry? What reason have you to be merry? You're poor enough."
"Come, then," returned the nephew gaily. "What right have you to be dismal? What reason have you to be morose? You're rich enough."
Scrooge having no better answer ready on the spur of the moment, said, "Bah!" again; and followed it up with "Humbug."
The word humbug literally means "a behaviour that intends to trick or deceive people" (Cambridge dictionary), but on this occasion it takes on a different meaning, that of something that is "totally ridiculous, silly or just nonsense".

Bah, on the other hand, doesn't actually mean much. As a matter of fact, it is the sound people make when they want to shrug something off or when they are rudely disagreeing with someone. It is usually followed by a hand wave to indicate that something is silly or ridiculous and then the person usually walks away.
So, if you don't want to join in with the fun, don't be grumpy and don't be mean, otherwise YOU will be called a Bah, humbug!
Examples
Annette: Let's all go to Winter Wonderland!
Paul: No, I hate it!
Annette: Come on, don't be a bah humbug!

He never wants to take me out, and when other people invite us he makes up excuses. He's such a Bah humbug!

Karen: Sorry, but I just didn't think The Hangover was funny. I felt like I had wasted one and a half hours of my precious time!
Tim: Well, bah humbug to you!

Sandra: I'm really excited I'm going Christmas shopping tonight!
John: Bah humbug!