Idiom
Sell like Hotcakes: Origin and Meaning
Meaning
To sell very quickly
Origin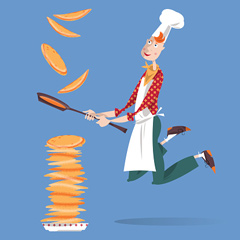 Towards the mid-19th century, pancakes used to be a very popular food item in America, but they were not the pancakes we know and love today; they were made with bear grease (poor bears ☹) and pork lard mixed with cornmeal (a type of polenta or corn flour).
They were so popular that many pancake stands at local fairs and fetes used to immediately run out of this "delicious" hot and steamy snack, hence the expression sell like hotcakes.
Another possible explanation is related to religion. Pancakes are traditionally eaten on Shrove Tuesday, the last Tuesday before the beginning of Lent (the 40 day fasting period before Easter).
It is thought that people would make pancakes using up all the butter and lard they had in store before giving it up for lent. Knowing that they were soon to be deprived of this delicacy, they would gobble up as many as they could as quickly as they could.
Examples
– Apple's new mobile phone is selling like hotcakes.

– Donald Trump: I'm not a very good baker, but I've decided to make cupcakes for the White House Christmas party.
– Melania Trump: Really? Well. I'm sure they'll sell like…hotcakes?!? (ironic)

– I can't believe how fast my stuff sold on eBay. It sold like hotcakes. Yay!