Idiom
Happy as Larry: Origin and Meaning
Meaning
to be very happy and have nothing to worry about.
Origin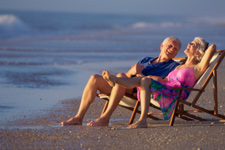 Larry is a shortened form of the name Lawrence; therefore, when we say we are
"happy as Larry"
we are comparing ourselves to a content man of this name. You may be wondering who this Larry fellow was and why he was so happy. In fact, this idiom gained popularity in the 1890s, and referred to an Australian boxer called Larry Foley, who was undefeated and managed to win $150,000 in a big fight. When the story of his victory was reported in New Zealand, the headline of the article was "Happy as Larry", and the story became so well known that soon people were using the phrase to mean that they were overjoyed. However, some people argue that the phrase was used years before 1890, and came from either the Cornish dialect word "larrie", used to refer to a practical joke, or the Australian word "larrikin" for a young hooligan.
Examples
Micael: "How do you like to spend your holidays?"
Olivia: "I just love to relax by the sea – give me a beautiful beach and the sound of the sea and I'm as happy as Larry"

Veronica: "How many years have you been married?"
Tom: "It will be ten years in July, and luckily, we're both still happy as Larry."