Idiom
To Make a Long Story Short: Origin and Meaning
Meaning
Get to the point – leave out details. Leave out parts of the story to make it shorter. To bring a story to an end.
Origin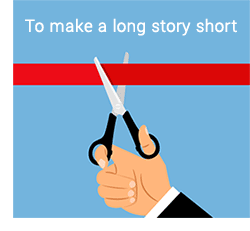 This expression has been used since the 1800s. Although the idea of making something very long shorter is ancient, the precise phrase here, dates back only to the 1800s. Henry David Thoreau played on it in a letter of 1857: "Not that the story need to be long, but it will take a long time to make it short."
Examples
– Long story short, he got back his job and the company apologised.
– To cut a long story short, I was stranded on the motorway with no means of transportation when a stranger stopped and helped me.
– Long story short, despite all the opposition, they finally won the legal case.
– To cut a long story short, it was a horrific experience but we managed to get through it in one piece.