Idiom
The World is Your Oyster: Origin and Meaning
Meaning
You have the ability or opportunity to achieve anything you want in life.
Origin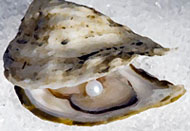 This phrase was created by William Shakespeare in his play '
The Merry Wives of Windsor
':
Falstaff:
I will not lend thee a penny
.
Pistol:
Why then the world's mine oyster, Which I with sword will open
.
Oysters are opened quite easily by inserting a knife. In the above example, Shakespeare used 'oyster' to symbolise the world – Pistol says that he will open 'the world' with his sword, in the same way we open oysters with a knife.
Examples
"I can do anything I want to do and go anywhere I want to go – the world is my oyster!"

"Jake is worried about what to do when he finishes university. I keep telling him the world is his oyster."

Sam: "I think I've wasted the last year learning English. What can I do now with my life?"
Ken: "The world is your oyster Sam! You are young and healthy, you have no commitments and now you can speak English. You can do anything you want to do!"