Idiom
To Knuckle Down: Origin and Meaning
Meaning
Apply oneself seriously to a particular task
Origin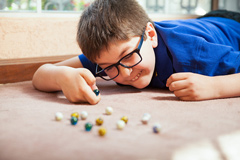 Who would have thought that this idiomatic expression derives from the game of marbles? Not me, that's for sure, but it does remind me of the not so distant time when school children used to spend their break-time in the school yard playing a game where you had to hit an opponent's beautifully-coloured glass ball from a distance by using your hands.
Some students rolled the ball, others flicked them with their thumbs. However, the most serious players would hold the marble in the hook of their index finger, knuckles to the ground, and flick the ball with their thumb, hoping to strike another person's ball. Hence, to knuckle down.
Examples
– If I want to pass, I'd better knuckle down and do some work.

– Suzy: "Oh my God, the house is a mess and my parents will be here in an hour."
Laura: "Let's not panic. If we knuckle down, we'll get it done in no time."

– The boxer was losing, but then he knuckled down, gave it his all.