Idiom
Jump on the Bandwagon: Origin and Meaning
Meaning
to support a hobby, an idea a person etc after it has become popular or successful.
Origin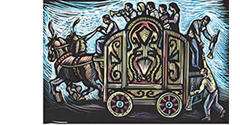 This idiom originated in the USA probably in the 18th century when musicians were carried in a bandwagon ahead of everyone else when going to a parade or a political rally. The phrase suggests that people will follow any event for the excitement of it rather than actually knowing if it is true or not.
The transition from the literal to the figurative use we now know was complete by the 1890s.
Examples
– They always jump on the bandwagon when they start watching a new tv programme that has become popular.

– People should make up their own minds instead of jumping on the bandwagon so often.

– I am certainly not going to jump on the bandwagon of trashing teachers.