Idiom
Long in the Tooth: Origin and Meaning
Meaning
Old, especially said of horses or people.
Origin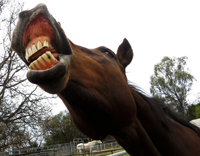 Unlike human teeth, the teeth of many animals, such as horses, continue to grow with age. They also get worn down with use, but the changes in the teeth over time make it possible to make an estimate of a horse's age by doing an examination of them.
Horses' teeth show specific signs of growth or deterioration over many years. There are similar Latin phrases dating back to the 16th century. But there was a big gap between these phrases and the first appearance of the English version in 1852. This makes it likely that 'long in the tooth' was coined independently from those earlier Latin sayings. That earliest citation recorded in 1852 refers to a woman rather than a horse: "His cousin was now of more than middle age, and had nobody's word but her own for the beauty which she said she once possessed. She was lean, and yellow, and long in the tooth; all the red and white in all the toy-shops in London could not make a beauty of her."
There are far kinder ways to refer to someone as being "long in the tooth" such as the French expression "a woman of a certain age", which also works in English. A famous British comedy sitcom from the 1990s called "One Foot in the Grave" was about an old couple who took early retirement and featured the following lines in its opening theme song: "They say I might as well face the truth, that I am just too long in the tooth, I've started to deteriorate, and now I'm past my own sell-by date".
Examples
Aunt Ada is a little too long in the tooth to be helping carry all this shopping.
Don't you think she's a bit long in the tooth to be a romantic heroine of this movie?
He's a little long in the tooth to be wearing shorts, don't you think?