Idiom
Wear Your Heart on Your Sleeve: Origin and Meaning
Meaning
To show your emotions openly; not to try to hide your feelings (especially regarding love)
Origin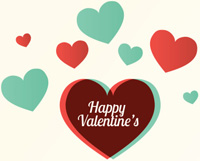 This phrase originates from a tradition of the King's Court during the medieval period, when knights would fight on horseback, jousting with a type of long sword called a lance. If a knight chose to joust in order to defend the honour of the woman he loved, then he would show his loyalty to her by tying a handkerchief in her "colours" around his arm on the sleeve of his shirt or tunic. This explains the meaning of the phrase today – the idea of metaphorically showing the "heart" or emotions in a place as visible as a sleeve means that this person displays their emotions truthfully.
The phrase was used by Shakespeare in 1604 in the play
Othello
. The Character Iago says "I will wear my heart upon my sleeve…" Unfortunately in the play Iago is not a trustworthy character: he is only pretending to show Othello his true emotions. However, usually we can trust a person who wears their heart on their sleeve as they show their true feelings and react honestly in any given situation.
Examples
Jenny: "Who was your favourite athlete when you were a child?"
Jack: "When I was younger, I was a big fan of the tennis player John McEnroe –he was often criticised for shouting at the umpire in frustration or getting really excited when he won – but I like the fact that he wore his heart on his sleeve!"

Dave: "I can't believe you told Karen that you're falling in love with her – you've only been out together on two dates!"
Matt: "Well, I can't hide my feelings; I've always been the kind of guy who wears his heart on his sleeve…"

If you want to be a good card player you can't wear your heart on your sleeve – you need to hide however you're feeling and perfect your poker face!