News & Special Offers
Autumn Promotion 2019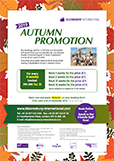 Any bookings paid for in October and November will benefit from a price reduction for any General English, Business English or Exam Preparation course which starts in 2019.

This gives you a great opportunity to study at the leading independent school in central London.
For every 4 weeks booked you pay for 3!
Book 4 weeks for the price of 3
Book 8 weeks for the price of 6
Book 12 weeks for the price of 9
Book 16 weeks for the price of 12
(price reduction is capped at 4 free weeks)
Book now and quote Autumn Promotion 2019 on your booking form.
Offer valid until 29th November 2019 *terms and conditions apply

Terms & Conditions
To receive this offer, bookings must be confirmed with receipt of full payment by Friday, 29th November 2019.
To receive this offer, the course start date must be between 30th September 2019 and 16th December 2019.
This offer can be used on AM or PM Standard, AM or PM Standard Plus, Intensive or Super Intensive.
General English/Exam Preparation/Business English courses only.
This offer can be used once per student.
This offer is available to new students only.
This offer is non-refundable and non-transferable.
This offer cannot be combined with another offer.
This offer has no monetary value.
This offer is subject to availability.
Bloomsbury International reserves the right to terminate this offer at any time.
Bloomsbury International's terms and conditions apply.
How safe is my course booking in a "No Deal BREXIT Scenario"?

Based on the evidence above, Bloomsbury International does not foresee any negative risks associated with EU students booking courses in the near future. We continue to monitor the situation closely through our umbrella organisations such as English UK, Erasmus, The British Council and Eaquals and will keep students informed of any changes to our stance.