Trinity GESE Exam Preparation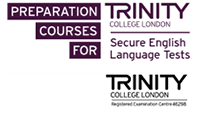 Trinity Graded Examinations in Spoken English (GESE) are one of the international English language tests offered by Trinity College London, which test speaking and listening skills.
Trinity GESE is commonly used for Secure English Language Test (SELT) purposes in the UK, as it is approved for UK visa or settlement purposes by the Home Office. It is also recognised internationally in various sectors including business, education, health, and the media.
To learn how to study for the exams, you will firstly be advised by our trained teachers what they consist of. In short, the exams cover a range of topics and tasks, and take the form of an unscripted conversation with an examiner from Trinity College London. They are available in many countries and can be taken throughout the year at Trinity exam centres.
Progression
The tasks that candidates undertake demand a more advanced use of English as they move up the grades. Rather than simply responding to a series of prompts, candidates at higher grades are expected to take more responsibility for directing and controlling the conversation.
GESE Grade
CEFR Level
Initial
Grade1
Pre-A1
Grade2
A1
Grade3
A2.1
Elementary
Grade4
A2.2
Grade5
B1.1
Grade6
B1.2
Intermediate
Grade7
B2.1
Grade8
B2.2
Grade9
B2.3
Advanced
Grade10
C1.1
Grade11
C1.2
Grade12
C2
Our qualified, carefully selected and dedicated teachers deliver lessons based on their learners' needs, ensuring that you improve your English and practise the exam skills at the same time. The lessons include grammar, vocabulary, pronunciation and topical communication skills, as well as conversational strategies and mock tests.
The exam fee is approximately £150. For exam dates and fees, as well as availability, please visit the Trinity College London website trinityselt.co.uk or contact us [email protected] or assistance.
Course Options
Lessons (pw)
Class times
Standard Morning
20 (15 hours)
9:00 – 12:15
Standard Afternoon
20 (15 hours)
13:00 – 16:15
Standard Plus Morning
30 (22.5 hours)
9:00 – 12:15 & 13:00 – 14:30
Standard Plus Afternoon
30 (22.5 hours)
13:00 – 16:15 & 16:30 – 18:00
Intensive
40 (30 hours)
9:00 – 12:15 & 13:00 – 16:15
Super Intensive
50 (37.5 hours)
9:00 – 12:15 & 13:00 – 16:15 &
16:30 – 18:00
*Break times: (Adult AM: 10.30-10.45; PM: 14.30-14.45/Young Learners: 10.00-10.10 + 11.00-11.10)
What is the main focus of this course?
To develop confidence in your communicative skills through an increasing degree of linguistic demands
To enhance your ability to initiate and take control of spoken interaction
To build motivation as you chart your progress through the 12 grades from absolute beginner to proficiency
To provide guidance and tips in order for you to maximise your chance of passing the chosen grade