Idiom
To have a one-track mind
Meaning
To focus on only one kind of thought; the tendency to be interested in a single subject; to be obsessed.
Origin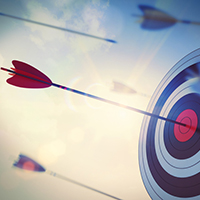 This expression was first recorded in 1928 and alludes to a train. While a railroad might have tracks going in different directions, a one-track railroad will only allow trains to move in a single direction. Similarly, a one-track mind is restricted to only a single line of thought, always thinking the same thing.
Examples
All Henry thinks about is food. When he is having breakfast, he is already planning lunch. He has a one-track mind!
Wayne Rooney was the perfect football player in his heyday: popular with fans and fast on the pitch, with a one-track mind for scoring goals.
Many people today have a one-track mind when it comes to their career and earning money. They rank their work above their social lives.
"I'm a man with a one-track mind
So much to do in one lifetime" (Queen, I Want it All)