Idiom
Rub Salt in the Wound: Origin and Meaning
Meaning
This idiom means 'to make something – usually a situation – which is already painful, unpleasant or difficult even worse'. It doesn't refer to self-inflicted pain but rather pain which is being inflicted on one person by another, often deliberately, or as a result of a situation which is out of a person's control. Just imagine having a cut on your finger and then someone putting salt into it – ouch!
Origin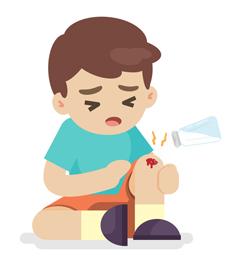 This idiom has been in use since the mid-1800's and comes from two different uses of salt on wounds. The first relates back to the use of salt as a further punishment on wounds caused by flogging. The second is slightly less awful and refers to the use of salt for medical reasons as an antiseptic, a practice which was carried out as far back as the ancient Egyptian, Roman and Greek times and later by sailors who put salty sea water on their wounds. It was believed that salt prevented infection and dried out the wound, however, it caused intense stinging when it was applied often making the pain worse than it was already hence leading to the expression.
Examples
James: Oh, the party was so good last night. It's such a shame you couldn't come!
Anna: Alright, don't rub salt in the wound! It was bad enough that I had to write a 1000 word essay, never mind the fact that I missed the party.

Tennis player: Of course it hurts to lose in the final but watching my opponent take the trophy and the prize money in front of all my fans, that really rubbed salt in the wound!

James: Ok, ok, I know it was my fault that I lost my phone but you don't need to rub salt in the wound by constantly showing me your new one!