Idiom
At the Eleventh Hour: Origin and Meaning
Meaning
This idiom simply means 'at the very last moment' and is often used when a decision is made or an action is taken at the last possible moment, sometimes suggesting that an opportunity was going to be missed if the decision or action wasn't taken or that there would otherwise have been a very negative outcome.
Origin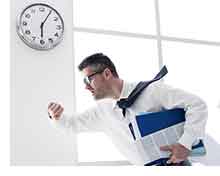 This idiom is generally thought to have originated from the Bible where it can be seen in the book of Matthew, Chapter 20, Verse 9. It appears in the passage exactly as it is used today, "And when they came that were hired about the eleventh hour, they received every man a denarius." and it refers to the story of the labourers (workers) who arrived at the eleventh hour of a twelve hour working day (so just for one hour of work!) but still received the same wage as all the other workers who had started earlier and had been working all day! It became more commonly used in the 19th Century and some academics have now settled upon a specific time for the eleventh hour, namely between 5 and 6pm, due to the fact that, back then, a standard working day started at 6am (sunrise) and ended at 6pm (sunset).
Examples
– James: Did you miss your train on Friday? – Anna: No, I got there at the eleventh hour! It was just about to leave.

– Newsreader: The England football coach had to change the team at the eleventh hour when one player was injured in the warm up.

– James: I'm so pleased that I finished my thesis at the weekend, now I can relax until I hand it in on Friday.

– Anna: Oh, I haven't even started mine, I need the pressure of leaving it till the eleventh hour otherwise I can't focus!