Idiom
Going to the Dogs: Origin and Meaning
Meaning
When a place or organisation is disappointingly not as good as it was in the past; to go to ruin.
Origin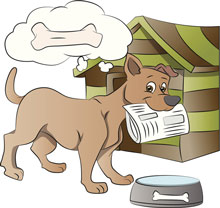 This idiom "going to the dogs" is often used when talking about politics or the economic situation of a country. Its origin is a bit unclear but some people believe that the idiom originates from the ancient Chinese custom of not allowing dogs into the walls of the city, and as a result they gathered outside the main walls, living off anything they could find in the rubbish. They often had to compete for food and space with the people who had been expelled from the city, and therefore had "gone to the dogs".
Examples
– If you read the tabloids, you would think that this country is really
going to the dogs.
– I returned to that 5-star hotel in Miami, but was so disappointed as it looked so run-down. It had truly
gone to the dogs!
– The business
went to the dogs
after Susan left! Such a shame!