Idiom
Finders Keepers: Origin and Meaning
Meaning
Taking ownership of finding something that does not belong to you or has been abandoned.
Origin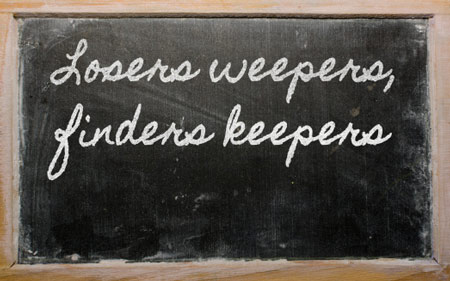 We tend to use this expression when we find something, often valuable, that has be lost, mislaid or abandoned and we decide to claim it. This is to the detriment of whoever has lost it. In fact, the lucky person coming across the item and claiming it, might smugly follow "finder keeps" with "losers weepers".
This idiom actually dates back to an ancient Roman law, which stated that possession is
nine-tenths of the law
, meaning that if you by chance found something, it was rightfully yours unless the rightful owner came to claim it back. This was a simple law that avoided legal and ethical disputes, and which is still used today.
Examples
– Fay ran into the office holding up a diamond ring. She self-contentedly looked at me straight in the eyes, and said "Just found this outside! Finders keepers!"

– Little Sally: Hey! That's my doll!
– Little Jane: Finders keepers, so it's mine!

– So, that watch you found in your taxi. Will you be handing it in at the depot?
– "No, 'course not! Finders keepers!