Idiom
Beck and Call: Origin and Meaning
Meaning
To be immediately available to somebody when they call; to respond to somebody's demands quickly.
Origin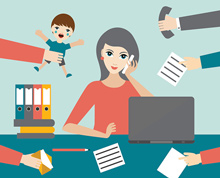 The origin of this idiom dates back to the 18th century. The word
beck
is a bit of a strange word, which on its own means river, but in this idiom it is thought to be an abbreviation of the verb to
beckon,
i.e.: to make a gesture with the hand, to signal or ask someone to approach. In other words, it means to call someone over. So to be a someone's
beck and call
is a
tautological expression
as both beck and call have similar meanings which reinforce each other.
Examples
– My assistant is brilliant! Anytime I need anything he is always at my beck and call.
– I am sure The Duchess of Cambridge has loads of people at her beck and call. Particularly now that she has had her third child!
– I know you are going through a bit of a tough time, so don't hesitate to call me. Don't worry! I'll be at your beck and call.