Idiom
Hear Something Through the Grapevine: Origin and Meaning
Meaning
To gain information unofficially from gossip or rumours. Often the information is passed on verbally, from family, friends or colleagues.
Origin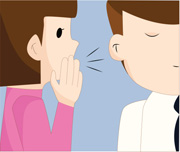 In the 19th Century in the USA, a man called Samuel Morse invented the telegraph system of communication. To carry the messages via electricity, thousands of kilometres of wire were stretched a few metres above the ground and held in position by evenly spaced standing telegraph poles. It was said that these wires and poles looked like the strings used to train vines (the plants on which grapes grow in vineyards to be made into wine.) Therefore the telegraph lines became known as "the grapevine". In The American Civil War, rumours and unofficial messages were often spread via the telegraph lines. From then on, whenever people were asked if they were absolutely sure that a piece of information was true they would often answer "I heard it through the grapevine", meaning they could not guarantee its truth, but that it was rumoured to be true. This phrase became more popular in the late 1960s when Marvin Gaye sang the Motown hit song "I heard it through the grapevine", which was a number 1 hit both for him and for Gladys Knight and the Pips.
Examples
Chris: "Danny seems so stressed out…I wonder what the matter with him is."
Delia: "Well, I heard through the grapevine that he and his girlfriend are splitting up, so he's dealing with a few problems at the moment."

Claire: "I heard it on the grapevine that you are thinking of moving abroad."
Barry: "Well, my wife and I were considering a move to Australia, but now we've changed our minds and we'd like to stay in London for a few more years."

Never believe the gossip that you hear through the grapevine – always try to find the truth from an official source.