Idiom
It's Not Rocket Science: Origin and Meaning
Meaning
It's not rocket science is used to say that you do not think something is very difficult to do or understand.
Origin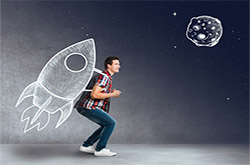 This is an American phrase. America was one of the first English-speaking countries to start a programme for the development of rocket science. The first people who were widely known as rocket scientists were a group of German military technologists, who were transported to the USA in 1945. Their success during the 1940s and 50s in developing the sophisticated technology required for military and space rockets, was the reason for rocket science being equated in the US public's mind with outstanding expertise. The perceived equation of 'rocket scientist = German = clever' can only have been enhanced by the persona of another German scientist of acknowledged genius, who was also working in the USA at the time – Albert Einstein.
Examples
– Coaching football is not rocket science and it's not brain surgery. It's a game, nothing more.?
– Driving a car is not rocket science. I don't know why people don't know how to drive better.
– Using the internet isn't rocket science. Anyone can learn how to use it..