Idiom
You Can't Judge a Book by its Cover: Origin and Meaning
Meaning
You cannot form an opinion about someone or something by looking only at the person or thing's appearance.
Origin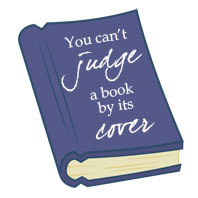 If you are looking for a book, you might only look at the covers of the books in order to choose one you would like to read. Due to this, you might overlook a very interesting book just because the cover did not appeal to you.
This can also be applied to people – if you see someone who you have never met before, you may form an opinion about them in your mind. However, when you actually speak to the person you may find that they are completely different to how you imagined!
This idiom was first recorded in June 1867 in the newspaper
Piqua Democrat
:
"Don't judge a book by its cover, see a man by his cloth, as there is often a good deal of solid worth and superior skill underneath a jacket and yaller pants."
Examples
"Even though Judy doesn't look very intelligent, she got the highest marks in the exams. Remember, you can't judge a book by its cover."

"I've always avoided the pub down the street because it looks really bad outside but Tony took me there last week and we had a really great night! I guess you can't judge a book by its cover!"

Jessica: "Here's a photo of Tom, the guy I want to set you up on a date with."
Louise: "Urgh, he's really ugly! I'm not going out with him!"
Jessica: "You can't judge a book by its cover Louise. He's the nicest guy I know and you would be lucky to have him as a boyfriend!"