Idiom
Look Before You Leap: Origin and Meaning
Meaning
Don't act before considering the potential consequences of your actions.
Origin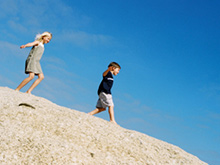 "Leap" means to jump so this expression means to check the situation before you jump, or to consider the consequences before you do something.
This idiom refers to one of Aesop's stories about a clever fox who is unable to climb out of a well and asks a goat to jump in so that it can climb on the goat to get out, while the goat remains trapped in the well.
Obviously the stupid goat should have looked into the well to check the situation before jumping in and trusting the fox.
The saying seems to hae been first used to warn people against being quick to "jump" into a marriage. In the Middle Ages, marriage was a more permanent institution and divorce was considered a bad, so it was wise to think very carefully before getting married.
Examples
– If you're thinking of buying an expensive car on a credit card, my advice is, look before you leap.
– You should check all the costs before you buy a mobile phone. Look before you leap.