Idiom
Tickled Pink: Origin and Meaning
Meaning
Very happy, delighted.
Origin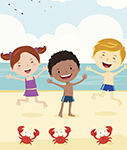 "Tickling" here doesn't mean light stroking of the skin – it's the metaphorical sense of the word that means 'to give pleasure'. The idea is of enjoyment great enough to make the recipient go pink with pleasure.
That meaning of tickling has found its way into several phrases relating to pleasure, dating back to the early 17th century, but it was first used in 1910, in an Illinois' newspaper – The Daily Review, said in a piece titled 'Lauder Tickled at Change', we have:
"Grover Laudermilk was tickled pink over Kinsella's move in buying him from St. Louis."
The inclusion of the term in a newspaper, without any explanation of meaning, indicates that the writer expected readers would already be familiar with it.
Examples
– I was tickled pink to have you visit us.

– We were tickled pink when your flowers arrived.

– Aunt Sophia was tickled pink to receive a photo of the family.