Idiom
Take with a Pinch of Salt: Origin and Meaning
Meaning
To be sceptical about the truth of a statement, or to not take it seriously.
Origin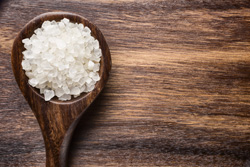 Food is more easily swallowed if taken with a small amount of salt. It's very similar to the expression "a spoonful of sugar helps the medicine go down" from the 1964 film '
Mary Poppins
'
Mithridates, once had in his private cabinet a recipe for an antidote for poison which said: "Take two dried walnuts, two figs, and twenty leaves of rue; pound them all together, with the addition of a grain of salt".
The metaphorical meaning that truth may require scepticism, didn't enter the language until much later. The phrase has been in use in English since the 17th century; for example, John Trapp's Commentary on the Old and New Testaments, 1647: "This is to be taken with a grain of salt."
The 'pinch of salt' variant is more recent but has become the more popular version in British English.
Examples
Uncle Bill tells some great stories, but we take what he says with a grain of salt because he sometimes exaggerates or makes things up.

The Internet is a great resource, but you should take a lot of the information there with a pinch of salt because there are a lot of crazy ideas.