English Study Tips
Students often ask us what they can do to improve their English quickly. Try the tips below and you will be surprised just how quickly your English improves: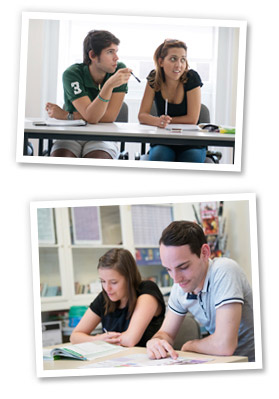 Study regularly – it's better to spend 30 minutes every day than 2 hours once a week!
Listen to the radio and watch some English TV every day (ask your teacher to recommend useful English programmes).
Read newspapers and magazines – you will learn lots of new vocabulary and common expressions.
Speak English outside the classroom as much as possible. If you live with friends who speak the same language as you, try and make 'an arrangement' to speak English only (for example, every day between 5pm and 7pm). Every little bit of practising speaking will help.
Keep a diary so you can write a little English every day. This will help you practise all the tenses in writing – you can do this slowly and use your grammar books and dictionaries to help.
Buy a good dictionary (ask your teacher for advice).
Start a vocabulary notebook and write down all the new words you learn each day. If you see an interesting word or expression, show it to your teacher who will be happy to explain and your classmates will enjoy learning something new too.
Don't be afraid to ask if you don't understand something or need help with English pronunciation.
Find English language exercises and games online.
Check our Idiom of the Week every Tuesday to help broaden your knowledge of English expressions.
Read our weekly blog which includes study tips and interesting aspects of the English language. Plus a 'fun with English' section every week!
Read our monthly newsletter which includes a useful English study tip from a teacher every month.