Student Welfare and Support
Bloomsbury International Cares About You

Student Welfare at Bloomsbury International
Bloomsbury International regards the pastoral and academic wellbeing of its students as being of paramount importance in its professional practice. It upholds the welfare and safety of students at all times whilst ensuring that school rules are followed and the care of students is constantly maintained.
Bloomsbury International has a duty of care to all of its students, incorporating safeguarding, risk assessment, health and safety, fire safety, documentation, absence procedure and liaison with outside agencies.
It is the policy of Bloomsbury International to safeguard young people enrolling on a course at the school from physical, sexual or emotional harm. Bloomsbury International will take all reasonable steps to ensure that, through appropriate procedures and training, young people can learn in a safe environment. We recognise that the safety and welfare of all students, whatever their age, gender, disability, culture, ethnic origin, colour, religion or belief, social status or sexual identity is vital and that they have a right to protection from the school.
Bloomsbury International actively seeks to:
Create a safe and welcoming environment at the school, where students can have fun, develop their English language skills and gain confidence in using English as a foreign language.
Support and encourage members of staff to implement school policies, helping them to recognise that safeguarding is the responsibility of everyone, not just the management.
Ensure that Bloomsbury International is run to the highest possible safety standards and be prepared to review its ways of working to incorporate best practice.
We will:
Treat all students with respect and celebrate their achievements.
Carefully recruit and select all employees, contractors and volunteers.
Respond swiftly and appropriately to all complaints and concerns regarding poor practice.
Bloomsbury International Student Handbook
Our handbook is available for information about the school and your stay in London as we want to make sure your stay is safe and enjoyable.
Our handbook includes: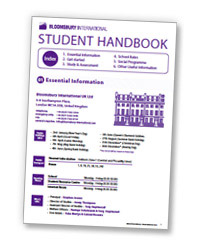 What to do if you have a problem
Rules and information
Health matters
The law and legal matters
Personal safety
Visas, work permits, immigration matters
Life in London
Things to do in London
Useful websites
Click here for the Student handbook.
Safeguarding
Bloomsbury has safeguarding policies in place to ensure the safe welfare of vulnerable adults and students under the age of 18.
Physical disability
Our school is not accessible for wheelchair users or those who have difficulties using stairs.
Special learning needs
Please consult us well in advance if you have special learning needs. We can sometimes help students who have difficulties with their sight or their hearing but our courses are not suitable for those who are the completely blind or the very deaf.
Please tell us in advance if you are dyslexic. If you are planning to take an examination we may be able to make special arrangements.
Mental health issues
We are unable to accept those with significant mental health problems. If in doubt, please consult us before enrolling yourself or others with any history of mental health problems so that we can advise.
Click here to read Bloomsbury International's policies in full.