English Speaking Courses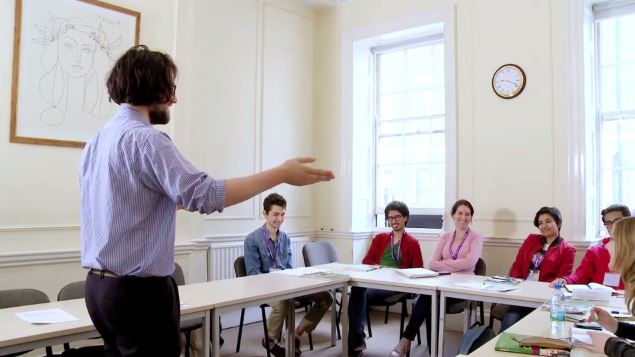 Are you looking to improve your spoken English skills?
Then why not consider an English speaking course at Bloomsbury International, one of London's leading language skills. Alongside a range of courses to suit all abilities and preferences, we provide high-quality courses to help you improve your English conversational skills.
– English language courses for all abilities, ages, preferences and timescales
– Benefit from expert teaching by highly skilled and qualified teachers
– Central London location gives you easy access to all the attractions of the UK's capital city
– Improve your spoken English skills with Bloomsbury International.
Do you want to know more? Then get in touch with us today!
London's leading English speaking courses
Mastering conversational English is a vital aspect of improving your English language skills, and so if this is your priority you could choose a course that focuses on verbal skills, such as English Communication Skills. This will help to ensure you become more fluent and confident in speaking English, by using a variety of different teaching methods, including the following:
– learning how to use the most appropriate English speaking styles for different situations
– learning to use more complex sentence structures and linking words when you're speaking English
– understanding more about colloquial English, such as idioms, and how to use it effectively and appropriately
– improving your confidence when speaking English in a variety of situations.
Come to Bloomsbury International to improve your English speaking skills
One of the biggest advantages of learning English at Bloomsbury International is that you'll spend every day in London surrounded by native English speakers. This will give you countless opportunities to put your spoken English into practice as you go about your daily life, such as buying travel tickets, booking a trip or choosing items in a shop. Immersing yourself in British life will be a huge benefit to your efforts to improve your English speaking skills, and when you add this to the expert tuition you'll receive at your London language school, it's not difficult to see why so many students choose Bloomsbury International.
View our courses – Courses & Prices
Contact Bloomsbury International today
Anyone who wants to improve their English conversation skills by taking an English language course in London needs to carefully consider which London language school is likely to be the best for them. You don't just want the cheapest course – you also need to consider factors such as the quality of English teaching, the accommodation on offer, the level of support you'll receive and of course how you'll be encouraged to become part of the wider student community. If you want to be certain of receiving the highest standards of all these factors, then Bloomsbury International should be the natural choice for you. To find out more about how to book your place at our London language school, simply contact us today.