Kill two birds with one stone
Idiom
Kill two birds with one stone
Meaning
To succeed in achieving two things in a single action.
Origin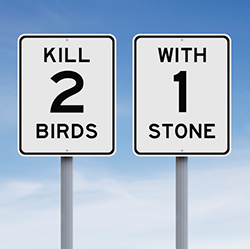 Remember the story of Daedalus and Icarus from Greek Mythology? The father and son who escaped from the Labyrinth on Crete by creating wings and flying out. Rumor has it that Daedalus killed two birds with one stone in order to get the feathers of the birds, and create the wings.
Examples
Mary is a busy person, so she decided to read her emails on her way to work, killing two birds with one stone.
Yesterday, I killed two birds with one stone and listened to a radio documentary while changing the car tyre.
If you go running with a group of people, you can kill two birds with one stone and socialise while getting some exercise.
Recent Updates EN
Idiom A plague on both your houses Meaning To curse on both sides of an...
Idiom Off the back of a lorry Meaning An object that was stolen or gained by...
Idiom Flying off the handle Meaning Suddenly become very angry Origin Imagine an...