(To) take the words right out of my mouth
Idiom
(To) take the words right out of my mouth
Meaning
When someone has said exactly what you were thinking. It's usually when you want to show someone that you really agree with them or to show that you had the same idea as them. It's always a very positive response to someone's opinion or idea.
Origin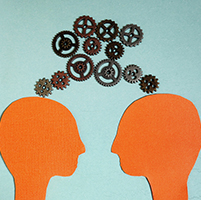 There isn't any clear origin but it was first seen written in 1574. A much more recent example is a song by popular singer Meatloaf titled You Took the Words Right Out of My Mouth (1977)
Examples
"You took the words right out of my mouth—I think she looks gorgeous, too!"
A: 'The speed limit on motorways should be raised.'
B: 'I agree completely! You've taken the words right out of my mouth!'
Recent Updates EN
Idiom Dress After a Fashion Meaning To say something was done, but not done...
Idiom The neck of the woods Meaning When the land was still mainly covered in woods...
It was a pleasure for me to be in this school. I have learned a lot and...