Hit the nail on the head
Idiom
Hit the nail on the head
Meaning
To be exactly correct. To describe something perfectly.
Origin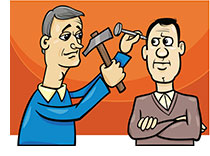 We think this phrase comes from carpentry (making things from wood). A good carpenter (a person who makes things from wood) would hit the nail directly on the top or 'head' meaning the thing he was making would work well. So the carpenter who could 'hit the nail on the head' would be good and correct.

This expression is extremely old. It appears in The Book of Margery Kempe, circa 1438. This was an account of the life of religious visionary Margery Kempe and is considered to be the earliest surviving autobiography written in English. Some have interpreted her 'hit the nail on the head' as 'speak severely'. She says "If I hear any more these matters repeated, I shall so smite [hit] the nail on the head that it shall shame all her supporters."
1. "You've found the problem, Sid. You hit the nail on the head!"
2. "You're so smart. You always hit the nail on the head."
Recent Updates EN
Idiom A bird in the hand is worth two in the bush Meaning This idiom advises...
Idiom Hair of the dog Meaning This idiom is one which many of us may have...
We offer high quality spring english courses for young learners who would...