It's Somebody's Bread and Butter Idiom Meaning
Idiom
It's Somebody's Bread and Butter
Meaning
A job that earns you enough money to live on, and perhaps a little bit more so that you can treat yourself; someone's livelihood.
Origin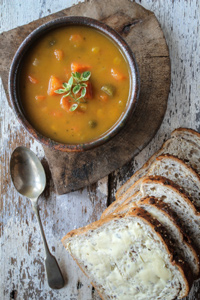 Bread and butter has been part of the staple diet of British and European folk since the Middle Ages. Bread used to be cooked in home ovens and butter churned in farm kitchens. However, not everyone lived in the countryside, and city dwellers often suffered from poverty and poor nutrition. As a matter of fact, many peasants couldn't afford much when dining out, and would only have soup as their main meals. When they managed to earn an extra shilling* or two, they would splash out on a slice of bread and butter to go with their meals…. So they truly earned their bread and butter.
*shilling: an ancient currency worth one twentieth of a pound.
Examples
- He earns his bread and butter selling home-made furniture.
- The automobile industry is the bread and butter of many Italians.
- Office work is my bread and butter, but my true passion is painting.
Recent Updates EN
Idiom A bird in the hand is worth two in the bush Meaning This idiom advises...
Idiom Hair of the dog Meaning This idiom is one which many of us may have...
We offer high quality spring english courses for young learners who would...