Trinity ISE Preparation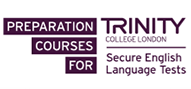 Trinity Integrated Skills in English (ISE) are one of the international English language tests offered by Trinity College London, which test all four English language skills – speaking, listening, reading and writing.
Trinity ISE is commonly used for Secure English Language Test (SELT) purposes in the UK, as it is approved for UK visa or settlement purposes by the Home Office, as well as for student admission purposes, as it is recognised by higher education institutions around the world as evidence of English language proficiency. It is also recognised internationally in various sectors including business, education, health, and the media.
To learn how to study for the exams, you will firstly be advised by our trained teachers what they consist of. ISE is intended for young people and adults – typically those at school, college, and university, who require evidence of their ability to communicate effectively in English. Preparing for the exams involves real-life English and transferable skills which are required for academic study and employability. Trinity ISE is also ideal for teachers who wish to gain a respected English language qualification.
Trinity ISE exams are available in many countries and can be taken throughout the year at Trinity exam centres.
Progression
We offer preparation courses for ISE Foundation, ISE I, ISE II and ISE III, which cover levels A2 to C1 in the CEFR framework. The ISE contains two modules which can be taken together, or at different times when a student is ready.
ISE Foundation
(A2)
ISE I
(B1)
ISE II
(B2)
ISE III
(C1)
Reading &
Writing
2 Reading tasks
+
1 Reading into writing task
+
1 Writing task

2 hours
Speaking &
Listening
2 Speaking tasks
+
2 Listening tasks

13 minutes
2 Speaking tasks
+
2 Listening tasks

14 minutes
3 Speaking tasks
+
1 Listening
task

20 minutes
3 Speaking tasks
+
1 Listening
task

25 minutes
Upon completion of each module, module certificates indicating separate results for reading, writing, speaking, and listening are presented to the candidate. An ISE qualification is awarded when both modules have been completed at the same level.
Our qualified, carefully selected and dedicated teachers deliver lessons based on their learners' needs, ensuring that you improve your English and practise the exam skills at the same time.
The exam fee is approximately £160. For exam dates and fees, as well as availability, please visit the Trinity College London website trinityselt.co.uk or contact us [email protected] for assistance.
Course Options
Lessons (pw)
Class times
Standard Morning
20 (15 hours)
9:00 – 12:15
Standard Afternoon
20 (15 hours)
13:00 – 16:15
Standard Plus Morning
30 (22.5 hours)
9:00 – 12:15 & 13:00 – 14:30
Standard Plus Afternoon
30 (22.5 hours)
13:00 – 16:15 & 16:30 – 18:00
Intensive
40 (30 hours)
9:00 – 12:15 & 13:00 – 16:15
Super Intensive
50 (37.5 hours)
9:00 – 12:15 & 13:00 – 16:15 &
16:30 – 18:00
*Break times: (Adult AM: 10.30-10.45; PM: 14.30-14.45/Young Learners: 10.00-10.10 + 11.00-11.10)
What is the main focus of this course?
To improve the overall level of English, including all four skills (reading, writing, speaking and listening) as well as grammar, vocabulary and pronunciation
To develop exam skills which are relevant for school, college, university and for employability purposes
To provide guidance and tips on order for you to achieve your chosen ISE level
To enhance your communicative competence and reinforce your ability to interact linguistically in real-life situations