About Language School Facilities
You'll probably hear lots of London language school boasting that they have "state-of-the-art facilities" or "outstanding premises" – but do you know what this really means? It's important to look closely at what lies behind these claims, as the school facilities and premises offered can vary quite significantly.
Here is a guide to what we think make outstanding school facilities and services for students – and of course we offer all of these here at Bloomsbury International:
A library or resource centre
If you want to get the most out of your course, it's really important that your London language school has a library or resource centre that you can use outside lessons and tutorials. This will help you to make the most of your self-study time, with resources generally covering things like:
worksheets for all levels of learner
CDs and DVDs
grammar and vocabulary books
short novels written especially for English language learners.
Your resource centre shouldn't just have all these materials, but it should also offer a quiet and comfortable place for you to study in before or after your classes.
Free high-speed internet access
There are so many resources and websites to help you learn English that internet access has become a prerequisite for many English language learners. A good London language school should offer you free high-speed wi-fi internet access, as well as providing internet studio or computer lab facilities. These will help you to continually use your English skills, as well as keeping up with friends and family at home.  
Well-equipped classrooms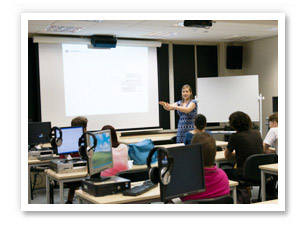 A good classroom won't just consist of tables and chairs with a blackboard at the front. There should be plenty of space for you to sit comfortably, with your laptop or books open in front of you. Classroom space should also be adaptable, so you can move into smaller groups or have discussions when necessary. Lastly, a really good classroom will have an interactive whiteboard – these are a fantastic teaching resource which really promote collaboration between the teacher and students, as well as encouraging group discussion and participation.
A café or refreshment facilities
Any good London language school will have a café or place where you can buy food and drink, then enjoy them with your friends and classmates. The refreshments on offer should be reasonably priced, and there should be somewhere comfortable where you can relax and socialise with your friends.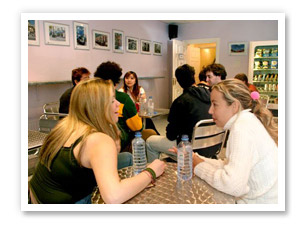 These are just some of the facilities that we think a good London language school ought to offer. At Bloomsbury International, we are proud to offer all of these and more. We continually receive excellent feedback from our students about the quality of our facilities. So next time you see a London language school claiming to offer excellent facilities, be sure to do your research about what this actually means in reality.