English Language School Homestays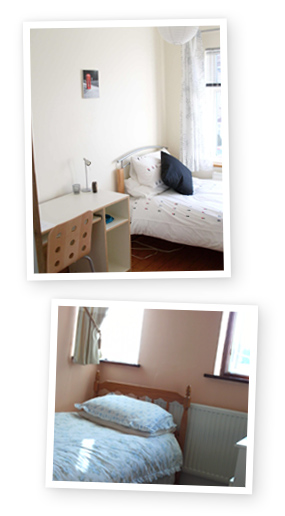 Many of our students choose to stay with one of our specially selected homestays, where a warm welcome is guaranteed. This is an excellent opportunity to learn about life in the UK, experience British culture and practise English at the same time.
In homestay accommodation, you can have your own room or book a twin room to share with a friend. Many students keep in touch with their homestay families when they return home and remain friends for many years.
Bloomsbury International works with their registered and inspected partners to ensure students are placed in best suited homestay accommodation.
All our homestay accommodation is checked and monitored regularly to ensure that it is of a good standard and host families are given strict guidelines about the services they need to provide to ensure that all our accommodation is operated to the same standards:
You will have use of all the essential facilities, including the kitchen (self-catering only) and bathroom.
If you choose a bed and breakfast or half board option, you will usually be able to eat your meals together with the family.
Rooms are cleaned frequently and bed linen and towels changed weekly.
You will be able to wash one load of laundry per week. The family will either do it for you or show you how to use the facilities.
You will be allowed to receive incoming calls; however, you are advised to bring or buy a mobile phone for your convenience.
Many hosts provide Internet access. If this is not available, please use the facilities at Bloomsbury International.
Our homestay accommodation is located in different parts of London:
Central London (usually zone 2 and limited availability in zone 1), where travelling time to school is approximately 30 to 40 minutes.
Outer London (zones 3 or 4) with travelling time to the school approximately 60 minutes.

Meal Plans
Our families offer bed & breakfast (BB) or half board (HB) accommodation options. The bed & breakfast package includes a continental style breakfast consisting of cereal, toast, tea/coffee etc. Half board includes a continental breakfast and a cooked dinner containing a main course of meat or fish with pasta, rice, vegetables or salad.
Meals are usually eaten with the family, unless otherwise arranged. If you have special dietary requirements, such as vegetarian, kosher or halal, please inform us at the time of booking and we will be happy to arrange this for you.
Some families also offer a self-catering option, where you can choose to prepare your own meals. Your host will give you storage space in the kitchen and fridge for your own food and drink that you will buy. They will also discuss the rules and times for you to use the kitchen facilities.
The full board option includes three meals a day: breakfast, lunch and dinner. The host will make you a packed lunch containing a sandwich, fruit, drink and a bag of crisps or a chocolate bar.
Room options
Single room
Superior single
Double room for couples or single use
Shared twin*
Shared twin en-suite*
* Please note that if you choose a shared room option, you must stay with a friend, family member or partner from home.
Click here for a full list of accommodation prices (2020).
Click here for more information on homestay and rules.