External Student Residences and Hotels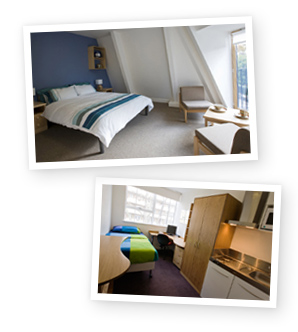 Our external student residences are located in zone 2 with excellent transport links (no more than 40 minutes from the school). The residences are safe, clean and comfortable, with communal areas for students to socialise and practise English. The communal areas often include kitchens, laundry facilities and TV lounges. Many of the residences also contain outdoor seating, pool table, bar, library and conference rooms.
Many of our student residences contain studios which can be adapted to accommodate 1, 2 or 3 students, or a family. All studios contain an en-suite bathroom, a desk, storage space and a kitchenette. This is a great option if you like your privacy but would also like to join other students in the communal areas.
Bloomsbury International works with their registered and inspected partners to offer a wide range of external student residence options in London to their students.

En-suite studio accommodation facilities:
Digital key entry system
Free linen and room cleaning every 7 days
Free kitchen utensils, cutlery and crockery
24/7 CCTV
24/7 reception and on-site accommodation manager
Free secure bike storage
Coin operated laundrette on site
Lift to all floors
Free Wi-Fi access
All bills included
Room options
Single room
Double room for couples or single use
Shared twin*
Shared triple*
Family room*
* Please note that if you choose a shared room option, you must stay with a friend, family member or partner from home.
Click here for a full list of accommodation prices (2020).

Hostels and Hotels
There are various hostels and hotels within walking distance of Bloomsbury International, as well as other options located all around London. If you would like to stay in a hostel or a hotel, please send us your requirements and we will be happy to arrange this for you.